Covid-19 Update
Wednesday, 17 June 2020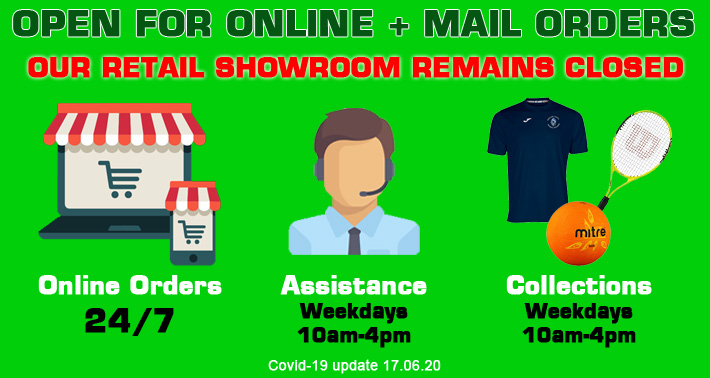 Covid-19 Update 17.06.20
Despite the relaxation of the government guidelines allowing non-essential shops to open their doors, our retail showroom

will remain closed until AT LEAST July 6th

. Our online site will still remain fully operational though.
We want to ensure that all customers are not only safe when visiting, but also receive a high level of detail in the service provided. As we have been left with no choice but to furlough several key staff members, we do not feel opening our doors is the best option for all concerned at this present time.
Ordering
Orders placed online, by phone or email are still being processed quickly by our skeleton workforce.
All customers are encouraged to order online or to contact us on the phone (01332 666 595) or email
sales@m3csports.com
.
Quotes & Queries

We are still able to answer any questions you may have, please contact us as normal. We are aiming to respond to all requests within 24hours.
Collections

You can collect any orders placed online or over the phone from our car park during the weekday hours of 10am - 4pm. Please await an order confirmation before travelling to us.
Upon arriving at our car park, please call 01332 666 595 with your name and order reference, we'll then bring the order out to you.

Friesland School - PE Kit Orders
We are still stocking the Frisland PE kit and will be keeping an eye on all stock levels to ensure that the uniform is available throughout the summer.
As we are unable to allow you to try on the kit (June 2020) we have provided further information for each of the individual garments to help aid your decision making.
For example, exact chest to chest measurements of the tops, so that you can make an educated guess what size your child will require.
We recommend comparing these measurements to a favoured item of clothing your child currently wears to reduce the chance of ordering an incorrect size. Please compare against a standard fitting garment.
If you prefer to wait until our showroom re-opens to order, we will encourage you to bring these comparable items in to the store and we will match up the PE kit as close as possible (whilst adhering to the distancing guidelines).
Returning the items will still be possible providing the garment is returned in a sealed bag. However, it is very time consuming for us to process returns so your co-operation with the above would be greatly appreciated.

We welcome any feedback that will help parents/guardians in the order process, so please contact us should you have any suggestions.
Further Information & Updates
We will be providing a further update on the opening of the showroom towards the end of June and hope that we will be in a position where we can bring back our fantastic team so that we can open our doors once more, without having to look back!
Thank you for your time
The team at
M3C Sports
www.m3csports.com